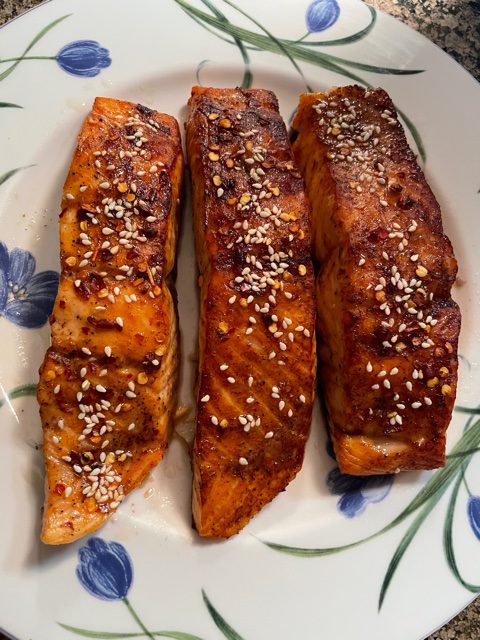 I have posted chicken recipes in my previous posts. Now, I am trying something new with fish and adding a sweet twist this time: honey glazed salmon with chili spice. I love fish and I have tried many types of salmon filet. Lemon flavor, garlic flavor and wine flavor are all great so I would try something new and venture in to the sweet palate in this recipe. Preparations are not too time consuming or laborious which makes it even sweeter. Below is my recipe using an air fryer. Hope you find this new experience flavorful.
INGREDIENTS YOU WILL NEED
1 pound salmon cut into 3 pieces
1 tbsp soy sauce
1 1/2 tsp sesame oil
1/4 tsp salt
1/4 tsp pepper
1 tbsp honey
1 tsp sesame seeds
1/4 tsp crushed chili flakes
Preparation
Make seasoning – Mix soy sauce, sesame oil, salt, and pepper into a small bowl.
Marinate – Place the salmon in a small bowl and pour the seasoning over salmon and gently rub all over. Allow it to marinate in the fridge for 15 minutes.
Preheat – Preheat air fryer at 425F for 5 minutes.
Cook the salmon – Place the filet into the air fryer basket, skin side down, and cook at 400F for 12 minutes (for medium to medium well cooking). If you prefer medium rare, then cook at 400F for 8 minutes.
Coating – Take out filet and brush with honey and sprinkle with sesame seeds and chili flakes. then cook for an additional 2 minutes.
Serve – Enjoy this salmon dish with a bowl of rice. Can be served as Japanese bento dish.
What we started with: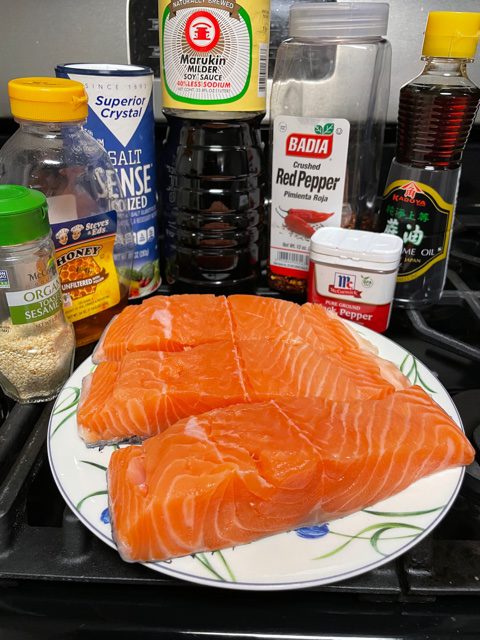 Check out my other salmon recipe using lemon and butter.
Check below for full list of my recipes.