Sustainable clothing inspiration
Clothing has been a necessity all of human history. Once viewed as a tool for survival has evolved to define a lifestyle, personal expression or status symbol. Fashion has become a major global industry. Designers creates fashion by season, color, fiber material, and lifestyle to create a trend. Each person's taste and personal expression can speak to their own fashion style. Fast forward to today, where environmental protection and sustainability has become a big movement and clothing manufacturers are more involved in eco-fashion.
How can consumers pitch in towards the sustainability movement? One example is buying sustainable fiber clothing. These days, there are many manufacturers creating design with this in mind. Many new fashion coming out is using recycled material such as organic cotton, polyester and fiber. Many are choosing at least 20% of recycled material in a garment which can make a big impact on the health of our planet.
I am a Fashion Designer and Technical Designer in the fashion industry. When I came to US for my Master degree, I had a opportunity to join a competition that had to design clothing pieces using recycled material and incorporated into a culture. I am Taiwanese, therefore, I chose a Taiwanese uniqueness culture – The Taiwanese aborigines. A lot of people in the world may not aware of this uniqueness culture that exists in Taiwan. I have used their fashion culture as an inspiration to design sustainable clothing.
The Taiwanese aborigines are the original people of Taiwan who occupied the land before the Chinese immigrants arrived from the Mainland during the Qing Dynasty. The nine remaining aboriginal groups (Atayal, Bunun, Tsou, Thao, Paiwan, Rukai, Amis, Puyuma, and Tau) have their distinctive cultural traits like languages, foods, garments, customs, and crafts which have all been relatively well preserved.
This design was developed from the features of the Atayal and Puyuma tribes' costumes. The Atayal and Puyuma tribes' costumes have some degree of similarity. They use a variety of colors such as red, black, blue, yellow, and white while dying and weaving their clothing.
Atayal tribe
Common features of the Atayal costume are dark red dye and diamond shapes. Dark red is used because they believe the color repels ghosts. Diamond shapes are the most common patterns on the front of Atayal clothing because they symbolize the eyes of their ancestor spirits, who they believe protected them. Moreover, for Atayal festival attire they use a basic color, either white or red, and weave simple and colorful geometric patterns in front and back of the costumes.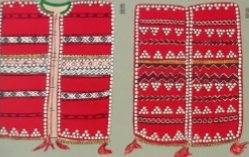 Puyuma tribes
Similarly, in Puyuma clothing, they mix bright red, yellow, and green with black and white. Patterns are usually seen as embroidered diamond shapes. The dress designs are based on intersecting lines with a combination of the cultural colors, red, black, and white. The lines are created by cutting red, black, and white stripes and then weaving them into an uneven shape. The surface design of the top of the dress is modern and creates the impression of diamonds and other geometric shapes that emerge from the intersections. The skirt has even pleats on the top making the shape like a bell with randomly placed diamond shapes on the bottom.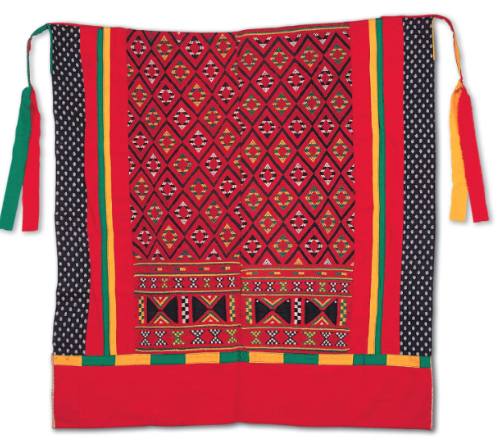 In addition, using recycled material increases the opportunity to reach the environmentally conscious consumers. For environmental reasons recycled PVC foam shelf liners are this design's main material. Shelf liners are easy to recognize from their use in everyday life. Using this material promotes the idea of integration of local features with its original colors and shapes. The Taiwanese aboriginal cultural features and the recognizable recycled materials work together creating a new apparel look and show how recycled materials can be used to create something that is both wearable and fashionable. Below is an example of my design taken from this inspiration.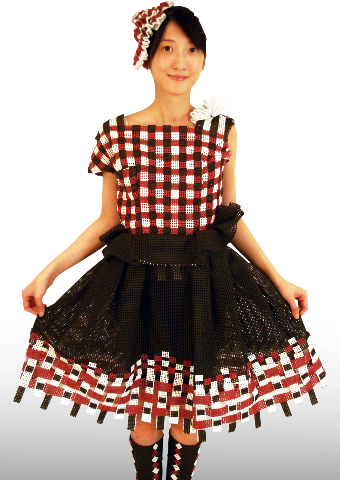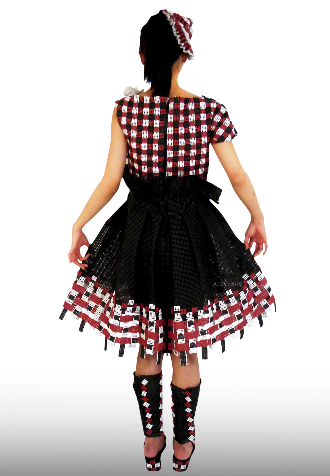 If recycled material can create a fashion piece, it can be used for lots of our everyday clothing for women, men and children. It has increased awareness of eco-fashion to many, major fashion brands. Brands like Levis, H&M, and Toad&Co are using recycled material to make everyday clothing. Now it is your choice as a customer to help in this movement.
Amazon has wide inventory of different brands of sustainable clothing. Please help in making this trend a sustainable movement as well.
Levi's– Levi's conserves water using rain-fed Cottonized Hemp and many recycled materials.
Levi's Women's 311 Shaping Skinny Jeans (Standard and Plus), Maui Views, 30 Regular

Toad&co – All their products use at least 80% sustainable fibers and/or 3rd party certified fabrics.
Toad&Co Cue Wrap Short Sleeve Dress Auburn Daisy Chain Print XS

Check below for full list of my other articles.